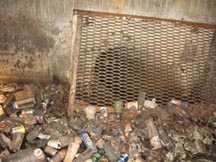 Enviro-Stormwater Management LLC offers inspection plans that fit your stormwater needs.

Government regulations recommend quarterly inspection of stormwater facilities and after major rain events.

We can save your company money by scheduling inspections alongside maintenance activities. In cases of limited budgets Enviro-Stormwater Management can recommend a schedule to do partial repairs/maintenance over a period of time


All our inspectors are Certified Stormwater Inspectors.